From Community Research to Community Action
Now that we have completed our community research we have moved into action mode.
Two of our Community Focus Groups are up and running. The Groups are tasked with developing and implementing responses to the issues identified through our Community Research project completed last year.
Road Safety and Environmental Focus Groups are established, and a third addressing Community Safety issues is about to kick off.
The Road Safety group are keeping an eye on the planned pedestrian crossings in Ngunguru.  These will be installed later this year by WDC. They are the result of earlier efforts by local residents to address road safety concerns, particularly for children on their journeys to and from school, and other vulnerable road users.
A proposal has been presented to Whangarei District Council for a footpath along Kopipi Crescent, Ngunguru.  The increased use of this road by vehicles, pedestrians and other road users highlight an obvious need of improved safety.  The proposal was presented to WDC by Ron Ford, TCR&RA's co-chair and liaison person with the Road Safety Group.  Local residents have indicated their support, and join nearly 60 people who signed a petition back in 2016 supporting a footpath for the area.
The Focus Group are also investigating options for a more connected Coast, including walkways and cycleways.
The Environmental Group is currently developing a plan to tackle the issue of sedimentation on the Coast.  The winter rains have once again highlighted the vulnerability of our Coastline and its waterways to this issue.
The Community Safety Group will be getting together soon to identify its priorities and action plan.
All of our groups are keen to welcome new members, so if you have an interest in any of these issues and have some time to share please get in touch with us through the secretary.
Summary report Summary of Tutukaka Coast Research 2021
For a copy of the full report please contact us.
Ngunguru Skatepark Development
The Ngunguru Skatepark has already established itself as a popular venue for skaters, young and not so young, to learn to practice their skills.   It adds to the other activities and facilities already available at the nearby Sports Complex.
Further improvements have been made at the Skatepark with the erection of a viewing deck and seating in March.  An access ramp was completed in April.  Funding of the shade sail came through late March and the shade sail was installed in May.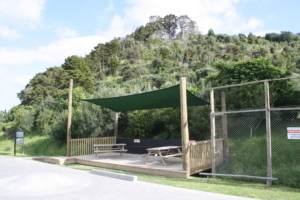 The Skate Park Management Group is considering adding a safety barrier along the top of the backrest of the bench to prevent children from walking along it, to avoid the risk of them falling onto the deck structure behind the backrest.  Benches or a skateboard stop alongside the storm water channel on either side of the deck are being considered, funds permitting.
Work on decorating the platform and bench with skateboard motifs, aimed at reducing their graffiti potential is next on the agenda.
The work has been possible with donations and support from the Oxford Sports Trust, the Pub Charity Limited, Whangarei District Council, 30 Mpa Limited and Toots Timber and Hardware.
The project has been lead by Ces Burke and the volunteer effort provided by Dave Churcher and other members of the Ngunguru Golf Club.
Well done and thanks go to all donors and volunteers for their support and efforts!!
The Tutukaka Coast Ratepayers and Residents Association acts as the host organisation for the Ngunguru Skatepark development group. If you would like to support this local project please let us know.
Mahinga Kai/community gardens
In September 2020, a vision of a community garden in Ngunguru became a reality.
The Ngunguru Mahinga Kai Community Gardens, behind the church in Waiotoi Road, is now well established and producing fruit and vegetables for our local community.
It was initially made possible with funding from the Kia Ora Fund at Mahi Tahi Hauora, who support community projects that address food security, and the Community Capability and Resilience Fund from the Ministry of Social Development.
These funds enabled the purchase of garden tools, compost bins, raised seed beds and a water tank.
The progress of the garden would not have been possible without the support of the Tutukaka Coast Play Centre, whose water we have been using, and the Tutukaka Coast Community Church who have allowed us to divert their storm water to the new water tank.
Support from local business is greatly appreciated. In particular, the Mahinga Kai group acknowledge the generosity of Fonterra for their donation of compost and Wal's Water and Colin Gibson Plumbing, in installing the new water tank.
Volunteers meet at the garden every Monday and Friday at 10am, and anyone wanting to join is more than welcome to come along and see what's going on.
Check out the new Community Composting hub!!!
If you would like to keep up to date with activities at the gardens, visit their Facebook page Ngunguru Mahinga Kai Community Gardens. Click on the link below to see some of the mahi and progress.
Any queries please contact Jenny at ngungurumahingakai@gmail.com
Local Planning
Whangarei District Council and Northland Regional Council are often undertaking consultation on various plans. Both have recently consulted on their long term plans.
Climate Change is a hot topic at the moment, with both Councils involved in planning for this issue.
We encourage residents and ratepayers to have their say on these planning processes to ensure the needs of the Tutukaka Coast are understood by planners.
We have developed a summary of key issues experienced by the Tutukaka Coast, and keep this regularly updated.
If you have an issue you wish to raise with us please contact us.